KLINIK DR HAMID ARSHAT
75M PLAZA DAMANSARA, BUKIT DAMANSARA, 50490 KUALA LUMPUR.
Tel. 03 20941115, 03 20945262, 03 20945800. Fax 03 20949402
Fasting what benefits ?
Breaking fast - pleasure of eating and great reward from Allah SWT our Creator and Sustainer
Benefits and rewards of ramadan fasting
Muslims all over the world just celebrated Eid to mark the end of one month of ramadan fasting. Most religion encourages fasting, but islam makes compulsory for those who are fit and healthy. For muslims when you fast, we have to completely abstain from eating, drinking, sexual intercourse and other forms of vices from fajar/dawn to sunset , roughly about 12 hours for those living in the tropic.
For a non muslim, to fast the whole day and for entire 30 days of the holy month of ramadan is indeed very intimidating. But for us practising muslims is a great pleasure and we look forward to this month. This particularly so for me at this age of 65 years when I feel that I have completed my worldly responsibilities and obligations especially related to family development , child rearing and upbringing and my career.
We train our children to fast since the tender age 5-6 years, but to start with we do not ask them to fast full day like adults. may be 4-5 hours and later on they can extend the fasting hours until the can reach the target of sunset. Most of them do not find difficulty in achieving . When I was small I grew up in a village of almost all muslims and we all fast but children are all same , we occasionally 'cheat' by drinking some water to quench our thist behind the back of our parents. But since children before age of puberty are not obligated to fast, it did not matter if they did what I did. It is just part of their training.
Three out of five of my grand children who are within the age of 8-10 were able to fast and I am proud that my eldest grand son who is 10 years old fasted full 30 days. It is important to teach and practise religious rituals like fasting , solat or prayer and quran reading from young age.
There are many benefits accrued from fasting from spiritual, religous, mental and physical aspects. Only Allah knows our quality of fasting and He rewards individuals accordingly but if we performed with sincerity for fear of Allah and did it rightly, we are promised by Allah SWT forgiveness and rewarded with jannah (heaven) in the hereafter.
Ramadan fasting make us very patient and humble and we did not indulge in any kind of vices or bad deeds. This has very positive effects on our emotions and state of mind. As for me , over the years it made a better person in character and deeds. In ramadan you are encouraged to donate or zakat , meaning giving away part of our wealth, not the property that you do not want but instead the ones that you love most. Indeed it is something very difficult to do, but it is the way of Allah SWT.
Ramadan has also made me a person with better temperament. I could restrain my temper, my anger and made me less vengeful towards others. It is indeed an effective spiritual and mental

exercise

.
Ramadan fasting has an effect on my

eating habits

and the amount of food intake. As a result my health is getting better, blood sugar level, my blood cholesterols and all the toxins in my body are under control and this is a form of detoxification. I will do a complete

biochemical

profile of my blood soon to confirm .
The scientific and medical experts are now recognizing fasting as a form of medical therapy for various conditions including obesity, diabetes, hypertension,

metabolic

disorders. I am convinced that this very true but as usual many people realize that something like fasting is good for them but to make it as life practice and ritual is never easy unless your will and determination are strong.
Fasting is good for health
Read what islamic scholars , scientists and medical experts say about fasting
Understand Islam and the goodness of fasting
Indian Natropathy describes the benefits of fasting as therapy of various diseases
Anti ageing program. Fasting very essential component
Supplements for better health
Amazon Price: $16.54 (as of 09/13/2010)
Amazon Price: $17.99 (as of 09/13/2010)
Amazon Price: $16.32 (as of 09/13/2010)
BOOST YOUR IMMUNE SYSTEM
BOOST YOUR IMMUNITY

Immune boosters work in many ways. They increase the number of white cells in the immune system army, train them to fight better, and help them form an overall better battle plan. Boosters also help to eliminate the deadwood in the army, substances that drag the body down. Here are the top eight nutrients to add to your family's diet to cut down on days missed from work and school because of illness.

VITAMIN C -500mg

Vitamin C. Vitamin C tops the list of immune boosters for many reasons. There has been more research about the immune-boosting effects of Vitamin C than perhaps any other nutrient. Vitamin C supplements are inexpensive to produce, and it's available naturally in many fruits and vegetables. Also, you can buy a vitamin - C- fortified version of just about anything. Here's what the research shows about how this mighty vitamin protects your body.

Vitamin C increases the production of infection-fighting white blood cells and antibodies and increases levels of interferon, the antibody that coats cell surfaces, preventing the entry of viruses. Vitamin C reduces the risk of cardiovascular disease by raising levels of HDL (good) cholesterol while lowering blood pressure and interfering with the process by which fat is converted to plaque in the arteries. As an added perk, persons whose diets are higher in vitamin C have lower rates of colon, prostate, and breast cancer.

You don't have to take in massive amounts of vitamin C to boost your immune system. Around 500 milligrams a day seems to be a generally agreed-upon amount and one that can be automatically obtained by eating at least six servings of fruits and vegetables a day.

See Top Seven Vitamin C-Containing Fruits. If you take vitamin C supplements,
it's best to space them throughout the day rather than take one large dose.

Most of which may end up being excreted in the urine.

Vitamin E 100-400mg

Vitamin E. This important antioxidant and immune booster doesn't get as much press as vitamin C, yet it's important to a healthy immune system.

Vitamin E stimulates the production of natural killer cells, those that seek out and destroy germs and cancer cells. Vitamin E enhances the production of B-cells, the immune cells that produce antibodies that destroy bacteria. Vitamin E supplementation may also reverse some of the decline in immune response commonly seen in aging. Vitamin E has been implicated in lowering the risk of cardiovascular disease. In the Harvard School of Public Health study of 87,000 nurses, Vitamin E supplementation was shown to cut the risk of heart attacks by fifty percent.

It's not difficult to get 30 to 60 milligrams every day of Vitamin E from a diet rich in seeds, vegetable oils, and grains, but it's difficult for most people to consume more than 60 milligrams a day consistently through diet alone. Supplements may be necessary to get enough vitamin E to boost your immune system.

You need 100-400 milligrams per day, depending on your general lifestyle.

People who don't exercise, who smoke, and who consume high amounts of alcoholic beverages will need the higher dosage.

Those with a more moderate lifestyle can get by with lower levels of supplementation.

Carotenoids

Carotenoids. Beta carotene increases the number of infection-fighting cells, natural killer cells, and helper T-cells, as well as being a powerful antioxidant that mops up excess free radicals that accelerate aging. Like the other "big three" antioxidants, vitamins C and E, it reduces the risk of cardiovascular disease by interfering with how the fats and cholesterol in the bloodstream oxidize to form arterial plaques.

Studies have shown that beta carotene can lower the risk of cardiovascular disease, especially strokes and heart attacks, giving scientific credence to the belief that a carrot a day can keep the heart surgeon away. Beta carotene also protects against cancer by stimulating the immune cells called macrophages to produce tumor necrosis factor, which kills cancer cells. It has also been shown that beta carotene supplements can increase the production of T-cell lymphocytes and natural killer cells and can enhance the ability of the natural killer cells to attack cancer cells.

Beta carotene is the most familiar carotenoid, but it is only one member of a large family. Researchers believe that it is not just beta carotene that produces all these good effects, but all the carotenoids working together. This is why getting carotenoids in food may be more cancer-protective than taking beta carotene supplements.

The body converts beta carotene to vitamin A, which itself has anti-cancer properties and immune-boosting functions. But too much vitamin A can be toxic to the body, so it's better to get extra beta carotene from foods and let the body naturally regulate how much of this precursor is converted to the immune-fighting vitamin A. It's highly unlikely that a person could take in enough beta carotene to produce a toxic amount of vitamin A, because when the body has enough vitamin A, it stops making it.

Bioflavenoids (Phytonutrient)

A group of phytonutrients called bioflavenoids aides the immune system by protecting the cells of the body against environmental pollutants. Bioflavenoids protect the cell membranes against the pollutants trying to attach to them. Along the membrane of each cell there are microscopic parking spaces, called receptor sites.

Pollutants, toxins, or germs can park here and gradually eat their way into the membrane of the cell, but when bioflavenoids fill up these parking spots there is no room for toxins to park. Bioflavenoids also reduce the cholesterol's ability to form plaques in arteries and lessen the formation of microscopic clots inside arteries, which can lead to heart attack and stroke. Studies have shown that people who eat the most bioflavenoids have less cardiovascular disease. A diet that contains a wide variety of fruits and vegetables, at least six servings per day, will help you get the bioflavenoids needed to help your immune system work in top form.

Zinc.

This valuable mineral increases the production of white blood cells that fight infection and helps them fight more aggressively. It also increases killer cells that fight against cancer and helps white cells release more antibodies. Zinc supplements have been shown to slow the growth of cancer.

Zinc increases the number of infection-fighting T-cells, especially in elderly people who are often deficient in zinc, and whose immune system often weakens with age. The anti-infection hype around zinc is controversial. While some studies claim that zinc supplements in the form of lozenges can lower the incidence and severity of infections, other studies have failed to show this correlation.

A word of caution: too much zinc in the form of supplements (more than 75 milligrams a day) can inhibit immune function. It's safest to stick to getting zinc from your diet and aim for 15 to 25 milligrams a day.

For infants and children, there is some evidence that dietary zinc supplements may reduce the incidence of acute respiratory infections, but this is controversial. The best source of zinc for infants and young children is zinc-fortified cereals.

RICH SOURCES OF ZINC
Food Source of Zinc Serving Size Zinc (in milligrams)
Oysters 6 medium 76
Zinc-fortified cereals 1 ounce 0-15
Crab 3 ounces 7
Beef 3 ounces 6
Turkey, dark meat 3 ounces 3.8
Beans 1/2 cup 1.2-1.8

GARLIC

This flavorful member of the onion family is a powerful immune booster that stimulates the multiplication of infection-fighting white cells, boosts natural killer cell activity, and increases the efficiency of antibody production.

The immune-boosting properties of garlic seem to be due to its sulfur-containing compounds, such as allicin and sulfides.

Garlic can also act as an antioxidant that reduces the build-up of free radicals in the bloodstream. Garlic may protect against cancer, though the evidence is controversial. Cultures with a garlic-rich diet have a lower incidence of intestinal cancer. Garlic may also play a part in getting rid of potential carcinogens and other toxic substances. It is also a heart-friendly food since it keeps platelets from sticking together and clogging tiny blood vessels.

Selenium.

This mineral increases natural killer cells and mobilizes cancer-fighting cells. Best food sources of selenium are tuna, red snapper, lobster, shrimp, whole grains, vegetables (depending on the selenium content of the soil they're grown in), brown rice, egg yolks, cottage cheese, chicken (white meat), sunflower seeds, garlic, Brazil nuts, and lamb chops.

Omega-3 fatty acids.

A study found that children taking a half teaspoon of flax oil a day experienced fewer and less severe respiratory infections and fewer days of being absent from school. The omega 3 fatty acids in flax oil and fatty fish (such as salmon, tuna, and mackerel) act as immune boosters by increasing the activity of phagocytes, the white blood cells that eat up bacteria. (Perhaps this is why grandmothers used to insist on a daily dose of unpalatable cod liver oil.) Essential fatty acids also protect the body against damage from over-reactions to infection. When taking essential fatty acid supplements, such as flax or fish oils, take additional vitamin E, which acts together with essential fatty acids to boost the immune system. One way to get more omega-3 fatty acids in your diet is to add one to three teaspoons of flax oil to a fruit and yogurt smoothie.
10 FOODS TO AVOID IN ENDOMETRIOSIS
There are certain foods to avoid with endometriosis. In fact, many women who suffer from endometriosis can improve their condition and their symptoms naturally by simply controlling their diet. Knowing what not to eat can make a significant difference in the way an endometriosis sufferer feels.
Creating an endometriosis friendly diet is about eliminating foods that increase prostaglandins. Prostaglandins stimulate estrogen, which is the main hormone that wreaks havoc in an endometriosis sufferer. Estrogen is responsible for symptoms including painful menstrual cramps, as well as meorrhagia (heavy menses), diarrhea, nausea and vomiting.
However, when you learn what foods to avoid with endometriosis, you will discover that not all prostaglandin are bad. For instance, prostaglandin E1 (PGE1) actually helps to relieve symptoms, while prostaglandin E2 (PGE2) and prostaglandin F2a (PGF2a) contribute to the symptoms mentioned above.
The following are 10 foods to avoid with endometriosis -
1. Sugar - Sugar, in all its forms (refined, artificial, natural), can produce a more acidic environment which can encourage the inflammatory pain of endometriosis. Therefore, it's a good idea to limit the consumption of chocolate, sweeteners, drinks and sweets with high levels of sugar, and honey.
2. Wheat - Wheat contains phytic acid which can aggravate endometriosis symptoms. Furthermore, wheat contains gluten, and studies have found that many endometriosis sufferers appear to have gluten sensitivity which can cause and increase painful symptoms. Products containing wheat and gluten should be avoided or limited.
3. Soy products - Like wheat, soy contains phytic acid; however the levels of phytic acid in soy are considerably higher than wheat. Phytic acid is known to irritate the digestive system and reduces mineral absorption, especially calcium. Soy is found in many food products including granola, pasta, imitation meat, soy milk, soy based cheese, etc.
4. Caffeine - Caffeine, especially when consumed in high amounts, has been found to increase estrogen levels, which can trigger endometriosis attacks and cause the condition to develop. Caffeine foods to avoid with endometriosis include coffee, tea and soda. Consuming more than two cups of coffee a day may cause estrogen levels to rise.
5. Alcohol - Alcohol eats up vitamin B stored in the liver. Liver function plays an essential role in clearing out excess estrogen which helps to control endometriosis. Eliminating alcohol on the body puts excessive stress on the liver, hindering it from expelling other items from the body.
6. Dairy products - Dairy products stimulate the production of PGE2 and PGF2a, which can worsen symptoms. The primary dairy foods that you should avoid with endometriosis include milk and cheeses. To help keep calcium levels up you can find other sources of calcium in sesame seeds, almonds, salmon, sardines, seaweed, figs, and calcium fortified foods (I.E. tofu, orange juice, etc.) Note: Remember to be careful when substituting dairy products such as pasteurized milk with soy milk, as soy can also aggravate symptoms.
7. Red Meat - Meat promotes PGF2a production. Furthermore, red meat may contain growth hormones that include estrogen. If meat is your main source of protein, you can obtain the protein you need through other protein-rich foods such as beans, tofu, tempeh, walnuts, cashews, chestnuts, sunflower seeds, flaxseed, sesame seeds, and peanuts.
8. Saturated fats and oils - Foods that are high in fatty acids stimulate the production of PGE2 and PGF2a. Fatty acids are found in saturated fats, oils (IE coconut oil, palm oil, etc.), butter, margarine, lard, organ meats, and plenty of fried foods.
9. Refined carbohydrates - refined carbohydrates (I.E. white bread, pasta, flour, pastry, cakes, etc.) have had most of their natural nutrients removed. Refined carbohydrates deplete the body's nutritional stores as they are needed in order for the body to absorb the nutrients in the refined carbs. This can lead to endometriosis symptoms. Instead of refined carbs, stick to unrefined carbohydrates such as wholegrain breads, pasta, rice, etc.
10. Additives and preservatives - processed, frozen and pre-packaged are foods to avoid with endometriosis as they are full of additives, preservatives chemicals, and many other ingredients that promote ill-health and PGE2 and PGF2.
FOOS FOR FERTILITY ENHANCEMENT
While the reasons for infertility are complex, and individual patients are best advised by their own personal doctors, and much of the research on food and fertility is observational (good evidence but not great evidence), it's probably worth your time to consider the evidence if you are trying to have a baby: certain foods and food habits seem to be associated with fertility and infertility.
1. Vegetable Protein:
Chavarro et al found that women who consume 5% of total energy intake as vegetable protein rather than animal protein had an associated decreased risk of ovulatory infertility by 50%. This means that getting more of your daily protein requirements from vegetable rather than animal sources may help.
2. Iron:
Chavarro et al found that women who took iron supplements had a significantly lower risk of ovulatory infertility than women who did not take iron supplements.
3. Fruits and Vegetables:
Mendiola et al determined that men who ate less milk and meat products and ate more fruits and vegetables had better sperm quality.
4. Zinc:
Colagar et al found that fertile men had higher levels of Zinc in their sperm than infertile subjects. Zinc is found in many foods, including oysters, beef, and peanuts.
5. Avoid Sweet Drinks:
Chavarro et al determined that sweet drinks, whether sugared, diet, caffeinated or caffeine-free, appear to contribute to ovulatory infertility.
6. Avoid Soy:
Chavarro et al found higher intake of soy food or soy isoflavone products lowers men's sperm concentration.
7. Decrease Carbs:
Chavarro et al found the higher the total carbohydrate intake and glycemic load the greater the likelihood of ovulatory infertility.
8. Good fats only, please:
Chavarro et al determined the higher the intake of trans fatty acids compared to mono or poly unsaturated fatty acids the greater the risk for ovulatory infertility.
9. Avoid low fat dairy foods:
Chavarro et al found that high intake of low fat dairy food increases women's risk for anovulatory infertility. High fat dairy foods did not seem to increase risk.
10. Resort to supplements:
Comhaire et al found that supplements of zinc and folic acid, along with supplements with anti-inflammatory properties such as pycnogenol and flaxseed oil, improved sperm motility in men.
What's probably OK:
Alcohol and unsweetened caffeinated drinks: Chavarro et al again (busy guys!) found no association between alcohol intake, caffeine intake, and ovulatory infertility.
FOODS FOR FERTILITY
How Food Affects Your Fertility
The foods you eat can be a major impact to your fertility. Making sure you are getting the right amount of "fertility foods" is essential to your fertility and your overall health while trying to get pregnant. There are many foods which you should consumer while trying to improve your fertility and there are also many foods that you should avoid which we will discuss tomorrow in a different post. For now, let's focus on the foods you should be eating for optimal fertility.
Eat these foods when you are trying to boost your fertility.
Eat Plenty of Fruits and Vegetables

I know this sounds cliche but you need to make sure you are getting plenty of fruits and vegetables, not only for fertility but for your general health.
Fruits and vegetables not only deliver a ton of vitamins and minerals, they also abundant antioxidants which help promote a healthy immune system. Try and eat 2 cups of fruit and 3 cups of vegetables per day. Get colorful when you buy fruits and veges too. Colorful fruits and vegetables often pack the most nutritional punch.
Drink Plenty Of Fluids – Ideally Water

It's vital that you keep your body hydrated to improve fertility so drinking enough fluids is on the top of the list. Water can do so much to help our bodies function properly so drinking water throughout the day is very important. When you neglect yourself from enough water your cervical fluid can become sluggish as well as a man's ejaculate fluid. So, keep your water bottle full and handy at all times!
Add Some High-Fat Dairy To Your Diet

Even though whole milk might not be your first choice, studies show that adding a little high-fat dairy to your diet can improve your fertility, especially ovulation issues. The more low-fat dairy products you eat, the greater your risk of ovulatory infertility.
This doesn't mean that you should eat a gallon of high-fat ice cream every night! Adding a glass of whole milk will do the job. Remember, moderation is key.
Get Some Protein From Nuts and Vegetables

Replace some of your protein intake from beef, chicken and pork with protein from nuts and vegetables. This can help reduce your chances of ovulatory infertility as well. Almonds, pumpkin seeds, sunflower seeds and many types of beans can help you get the right types of protein.
A balanced diet when trying to improve your fertility is the primary focus. You don't want to eat too much or too little when it comes to the nutrients you need for optimal fertility. So, figure out what your current diet is and adjust it so your body gets everything it needs. If you have specific dietary questions, be sure to consult with your doctor. A happy body, is a happy mom, is a happy baby!
Foods to Avoid
Just as essential as putting the right foods in your mouth for fertility, it's also equally important to avoid some foods while trying to improve fertility. The list below points out some of the more common foods that women trying to increase their fertility and get pregnant should avoid.
Watch Your Seafood and Fish Intake
Fish and seafood in general can carry high amounts of mercury. Mercury has been known to cause serious birth defects so staying away is essential in your efforts to get pregnant. If you are a huge seafood and fish eater, consult with your doctor to see what types of fish and seafood you should be eating. Tuna is most always a no-no.
Stay Away From Processed Foods
Processed foods such as sugar and refined flour provide no nutritional value for you or your baby. When trying to improve your fertility, you need to make sure your body is getting the right amount of calories and from the right sources such as fruits and vegetables. Read, Best Fertility Foods When Trying To Get Pregnant, to see the types of foods you should be focusing on.
Cut Out Caffeine
This means either cut WAY down on coffee, tea and soft drinks or totally cut them out of your diet. Decaf is fine. Caffeine can interfere with conception and can also affect the fetus and cause miscarriage. If you do need your cup of morning joe, drink no more than 2, five ounce cups per day.
No More Alcohol
This should be a no-brainer but you'll need to cut out alcoholic beverages. When trying to increase your fertility alcohol consumption can cause numerous ovulatory dysfunctions. If you suffer from anovuation, you should completely stay away from alcohol. Drinking alcohol while pregnant can also increase the risk for spontaneous abortion as well as impair fetal growth and development.
Avoid Unpasteurized Cheese
"For years, the federal agency has warned pregnant women to eat hard cheeses only. The reason: Risk of food poisoning from Listeria, a common bug that can be deadly for unborn babies. Soft cheeses and precooked meats such as hot dogs and deli meats often harbor the germ. But now, the FDA says, new data show that Listeria lurks only in unpasteurized feta, Brie, Camembert, queso blanco, queso fresco, blue cheeses, and other soft cheeses. Those made from pasteurized milk are OK."
In general, avoid any unpasteurized products including cheese, milk or other dairy products to help prevent Listeria poisoning. Here are a few other things you can do to minimize the risk of Listeria poisoning:
Keep your fridge temperature to 40F or lower
Avoid hot dogs and luncheon meats
Stay away from canned refrigerated meat spreads
Steer away from refrigerated smoked seafood labeled nova-style, kippered, lox, smoked or jerky
Do not drink raw milk or any unpasteurized milk product


Cut Out Fast Foods
Fast foods are very high in saturated fats, trans fats, sodium and cholesterol which can be a major cause of infertility due to obesity. Your body needs quality foods rich in nutrients so make sure you are feeding it properly.
Avoid Aspartame and Other Artificial Sweeteners
You have to watch these because they are in so many food these days. If you NEED your artificial sweetener for your cup of decaf tea, opt for something with more nutritional value such as Agave Syrup.
Your fertility depends on the foods you eat. Eating healthy is one of the easiest things you can do that is in your power and can play a huge factor in your overall fertility. Get in a routine of eating foods that are good for fertility and good for your body. It will become a habit and you will think nothing of it. You will thank yourself and so will your baby.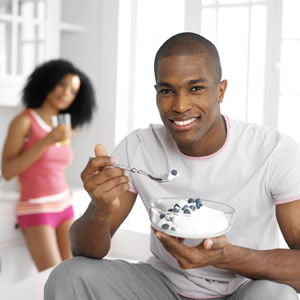 Several studies attempt to establish the relationship between food and male fertility in this sense some have stated that a high protein diet affects the quality of semen.
We know that a balanced diet that provides all the nutrients needed by the body is essential for good health, if we include also recommended certain foods to increase fertility, we can enhance the quality of sperm.
To help you diversify your diet, here's a list of foods that enhance fertility because of their specific nutrients.
Vitamin C: Ascorbic acid enhances sperm quality by preventing oxidation and prevent caking in the form of lumps. Among these the principalesalimentos containing vitamin can include: citrus, garlic, onions, strawberries, or strawberries, pineapples, cashews, papayas, hazelnuts, almonds.
Vitamin A: Protects the male reproductive cells of premature aging caused by free radicals. It promotes fertility and participating in the formation of steroid sex hormones base. This vitamin is abundant in milk fat from cream and butter, whole milk and liver. Also present as beta-carotene (precursor of vitamin A in the body) in carrots, pumpkin, apricots and vegetables most of the orange-red and in green leafy vegetables.
Vitamin E: antioxidant capacity for counteracting the harmful effects of free radicals on the mobility of sperm and semen quality. They are rich in vitamin wheat germ oil, extra virgin olive oil and nuts.
Folic Acid: A deficiency affects the number and mobility of sperm. Folic acid is abundant in green leafy vegetables, legumes, whole grains and products that are fortified with this vitamin.
Arginine: Contributes to the creation of sperm. Foods rich in this component are: onions, garlic, asparagus, oats, cabbage, peppers, oranges, carrots, lettuce, apples, almonds, potatoes, beans and spinach.
Carnitine: Increases testosterone, male reproductive hormone. Carnitine-rich foods include garlic, onions, peppers, papaya, oats, coconut, citrus, cucumbers, cabbage, squash, pears.
Tryptophan: an amino acid is considered the best natural relaxant. It is the precursor of serotonin, a neurotransmitter. Some foods that contain this component: Garlic, onion, cashews, oats, cabbage, pumpkin, chestnuts, citrus, tomatoes, figs, beans, mango.
Zinc: Increases testosterone, male reproductive hormone. Foods rich in zinc are: celery, asparagus, figs, potatoes, eggplant.
Selenium: Associate directly to male reproductive function, participates in the secretion of testosterone and improves mobility and sperm count. In supplement form, specialists often recommend in conjunction with vitamin E.
EATING FRUIT

This is informative!

We all think eating fruit means just buying fruit, cutting it up and popping it into our mouths.
It's not that easy. It's important to know how and when to eat fruit.

What's the correct way to eat fruit?

IT MEANS NOT EATING FRUIT AFTER A MEAL!
FRUIT SHOULD BE EATEN ON AN EMPTY STOMACH.

Eating fruit like that plays a major role in detoxifying your system,
supplying you with a great deal of energy for weight loss and other life activities..

FRUIT IS THE MOST IMPORTANT FOOD.
Let's say you eat two slices of bread, then a slice of fruit. The slice of fruit is ready to go straight through the stomach into the intestines, but it's prevented from doing so. In the meantime, the whole meal rots and ferments, and turns to acid. The minute the fruit comes into contact with the food in the stomach, and digestive juices, the entire mass of food begins to spoil.
Eat your fruit on an empty stomach, or before your meal!
You've heard people complain: Every time I eat watermelon I burp, when I eat durian my stomach bloats,
when I eat a banana I feel like running to the toilet, etc. This will not happen if you eat the fruit on an empty stomach.
Fruit mixes with the putrefying other food and produces gas. Hence, you bloat!

Graying hair, balding, nervous outburst, and dark circles under the eyes
all of these will NOT happen if you eat fruit on an empty stomach.

There's no such thing as some fruits, like orange and lemon are acidic, because all fruit becomes alkaline in our body,
according to Dr. Herbert Shelton who did research on this matter.
If you have mastered the correct way of eating fruit, you have the Secret of
Beauty, Longevity, Health, Energy, Happiness and normal weight.

When you need to drink fruit juice drink only fresh fruit juice, NOT from the cans.
Don't drink juice that has been heated. Don't eat cooked fruit; you don't get the nutrients at all.
You get only the taste. Cooking destroys all of the vitamins..

Eating a whole fruit is better than drinking the juice.
If you should drink the juice, drink it mouthful by mouthful slowly,
because you must let it mix with your saliva before swallowing it.
You can go on a 3-day fruit-fast to cleanse your body.
Eat fruit and drink fruit juice for just 3 days, and you will be surprised when your friends say how radiant you look!

KIWI: Tiny but mighty, and a good source of potassium, magnesium, vitamin E & fiber. Its vitamin C content is twice that of an orange!

AN APPLE a day keeps the doctor away? Although an apple has a low vitamin C content, it has antioxidants & flavonoids which enhances the activity of vitamin C, thereby helping to lower the risk of colon cancer, heart attack & stroke.

STRAWBERRY: Protective Fruit. Strawberries have the highest total antioxidant power among major fruits & protect the body from cancer-causing, blood vessel-clogging free radicals.

2 - 4 ORANGES oranges a day may help keep colds away, lower cholesterol, prevent & dissolve kidney stones, and reduce the risk of colon cancer.

WATERMELON: Coolest thirst quencher. Composed of 92% water, it is also packed with a giant dose of glutathione, which helps boost our immune system. Also a key source of lycopene, the cancer-fighting oxidant. Also found in watermelon: Vitamin C & Potassium.

GUAVA & PAPAYA: Top awards for vitamin C. They are the clear winners for their high vitamin C content. Guava is also rich in fiber, which helps prevent constipation. Papaya is rich in carotene, good for your eyes.

Drinking Cold water after a meal = Cancer!

Can u believe this? For those who like to drink cold water, this applies to you. It's nice to have a cold drink after a meal, however, the cold water will solidify the oily stuff that you've just consumed, which slows digestion. Once this 'sludge' reacts with the acid, it will break down and be absorbed by the intestine faster than the solid food. It will line the intestine. Very soon, this will turn into fats and lead to cancer It is best to drink hot soup or warm water after a meal.
Ujian Food Allergy untuk menjauhkan penyakit.
Saya percaya apa yang dimaksudkan dalam satu hadis Rasullulah iaitu diakhir zaman nanti penyakit akan banyak timbul olih sebab makanan dan tekanan rohani dan mental. Sekarang sudah jelas terbukti apa yang dikatakannya. Rata2 orang gemok/obese yang dilanda penyakit kencing manis, darah tinggi, sakit jantung, wanita pula dengan tambahan masalah haid, kesuburan sebab PCOS, kanser rahim dan payudara.
Kita sekarang terlalu mewah dengan makanan kerana kini kita telah menjadi kaya dan disamping itu amalan budaya kita semua ada kaitan dengan jamuan makanan yang melempah mewah. Musim perayaan dan pesta tak habis2, satu lepas satu tak tahu bila akan berakhir. Dibulan syawal akan dating pesta makan rumah terbuka akan berterusan selama sebulan. Huh habis semua terhapus kesan baik dan faedah sebulan berpuasa.
Sajian makanan amat sedap dan meyelerakan, memang sukar sungguh nak tolak dan nak kawal selera. Fikir dahulu sebelum makan, anggap makan untuk hidup bukan hidup untuk makan.
Saya cadangkan supaya dilakukan satu ujian yang digelar 'Food Allergy Test'. Ujian ini penting untuk mengetahui apa jenis makanan yang tak sesuai untuk badan kita. Kita bolih uji keserasian berbagai jenis makanan dari belacan, cencalok, nasi, daging , udang , sotong , ikan bilis, keju, margerin dan lain2.
Kalau kita allergy terhadap sesuatu makanan , tapi kita terus memakannya, ini akan mengundang penyakit. Setiap kali kita makan jenis makanan tersebut suatu reaksi allergy akan dicetuskan dalam badan kita. Lama kelaman reaksi ini akan melemahkan immunity atau ketahanan badan kita terhadap serangan penyakit. Sebaiknya kita jauhkan saja dari jenis makan yang munkin mecetuskan reaksi allergy.
Ada banyak makmal swasta yang melakukan ujian ' Food Allergy' Kalau hendak buat ujian ini, bolihlah hubungi klinik saya 03-20941115.
---
01.05.2010
LAMAN DR HAMID ARSHAT
TERIMA KASIH ATAS KUNJUNGAN ANDA. JIKA ADA CADANGAN SILA KEMUKAKAN DALAM GUEST BOOK
März 2018
| | | | | | | |
| --- | --- | --- | --- | --- | --- | --- |
| Mo | Di | Mi | Do | Fr | Sa | So |
| | | | 1 | 2 | 3 | 4 |
| 5 | 6 | 7 | 8 | 9 | 10 | 11 |
| 12 | 13 | 14 | 15 | 16 | 17 | 18 |
| 19 | 20 | 21 | 22 | 23 | 24 | 25 |
| 26 | 27 | 28 | 29 | 30 | 31 | |
| | | | | | | |